---
Engineering structural properties of dodecin
The sensitivity of dodecin towards the redox-state of the bound flavin represents one of its key properties. While dodecin binds oxidized flavin systems with high affinities, reduced compounds cannot be adopted. On this basis, we have engineered dodecin variants to bind flavins with low substrate specificity, and employed them as a redox-sensitive shuttle, which can be filled with flavin-anchored compounds, and as a redox-sensitive load of surface anchored flavins. For the latter, it requires a surface tethered flavin (flavin/molecular wire hybrid), which enables electron transfer from the surface (electrode) to the flavin head group (isoalloxazine ring).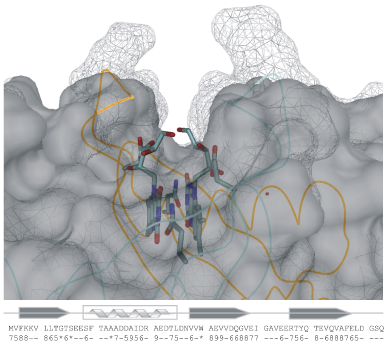 Figure. Superposition of the binding pockets of wildtype the tE-mutated dodecin. The binding pocket of the wildtype dodecin (mesh representation) and the engineered dodecin tE variant (solid), which is tolerant in ligand binding, are shown in a surface representation mode. The Cα-chains of two dodecin wildtype monomers are traced by orange and grey lines, respectively. The dodecin secondary structure and the primary sequence, with the conservation of the primary sequence per 10 dodecin homologs, are attached. A star indicates full conservation; lines indicate conservations below 50% (conservation code 5).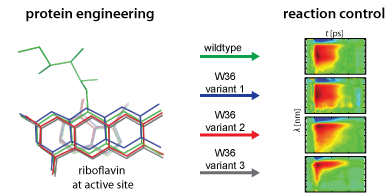 Figure: Electrochemically switching of protein states Flavin/molecular wire ligand hybrids are linked to electrode surfaces. They are switched between oxidized (left; flavin abstracted as ellipse) and reduced state (right, rectangle) by the surface potential. Driving force for a changed binding behavior are different elec- tronic and conformational properties of flavins in the oxidized vs. the reduced state.